Read in conjunction with the overall project programme, look ahead schedules are used within the latter stages of the construction and commissioning phases of a project to help focus the planning, management, tracking, and completion of tasks and activities needed to close out its final stages. When implemented correctly, they can be a very useful tool – helping maintain focus, coordination, and speed.
Below we will provide further information around these schedules, with a couple of free downloads if needed.
Why are they used?
In the latter stages of a project, trying to use the overall project construction programme, which could be 100's/1000's of lines long, to manage and track multiple tasks and activities, that need to happen in a particular sequence or at the same time can be extremely cumbersome, plus they may not contain the correct amount of detail required.
Look ahead schedules [2 weeks / 3 weeks] provide a great way to help overcome this by using information from the overall programme and managing that information in an easier format.
Benifits of a look ahead schedule are:
they are simple,
they are flexable,
easy and fast to update, as in a format that all engineers and people can use,
fine detail and sequences can be included, helping break down activities and tasks,
simple deligation of tasks,
aids in managing multiple stake holders,
provide a clear understanding of the tasks and activites needing to be completed to meet the overall programme,
simple tracking of complex tasks
easy to share around the team,
There can be multiple lookaheads being used on a project, depending on the discipline they are tracking:
Builders work
Building services installation
Fire installations
Final Finishing
Commissioning activities
Documentation
Defects and punch list closeout
How often are they updated?
Once they are deployed on a project, the expectation is that they should be managed and updated daily. This is to monitor the progress of tasks and to provide an early warning of any potential issues or impacts for activities that are to be completed later in the schedule.
Usually each evening, the team would report progress and the person in charge of updating would insert the relevant information into the schedules.
When should they be issued/used
We generally find benefit in issuing/using them during the latter stages of a construction project, when the required tasks and activities are needing to be finely managed and sequenced.
What format should they be?
The most common format we usually see is Microsoft Excel due to its flexibility and the simple layout needed for the schedules.
On occasions, Microsoft Project is used but this can create issues with people obtaining access due to license requirements.
What information should be contained in them?
Lookahead schedules should be light simple and efficient, they are not intended to contain the information that we would generally see in the main construction programme.
Areas they should cover are:
project information
month, day and date,
task reference number,
task description,
expected duration,
responsible,
procedure number [if needed]
status / progress
notes
Lookahead Schedule Templates
Below provides an example of how the 2 week, 3 week, 4 week and a bonus 52 week schedules can be formatted.
Click the button below to download a full FREE open copy of these documents in Microsoft Excel.
Two [2] week look ahead schedule template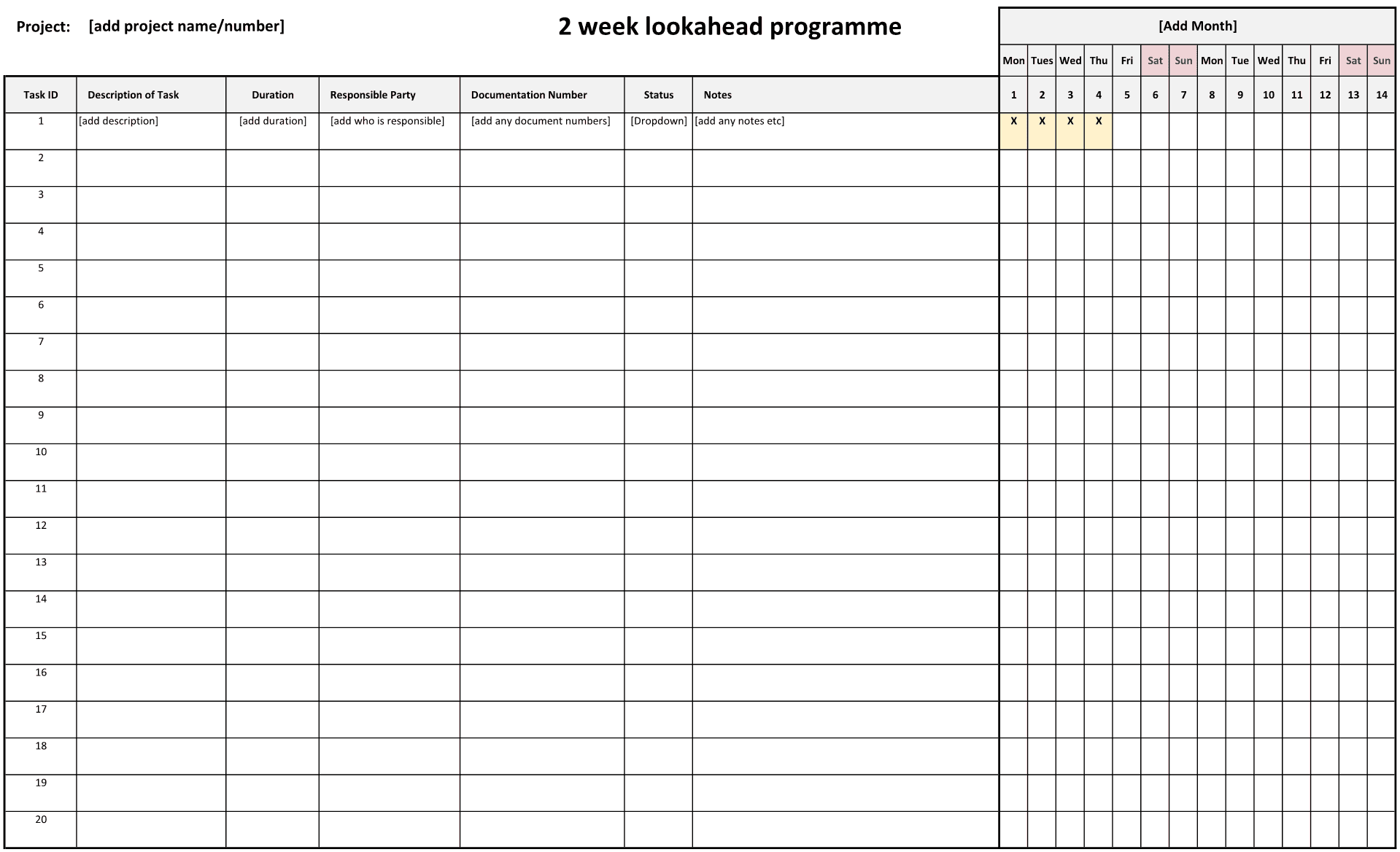 Three [3] weeks look ahead schedule template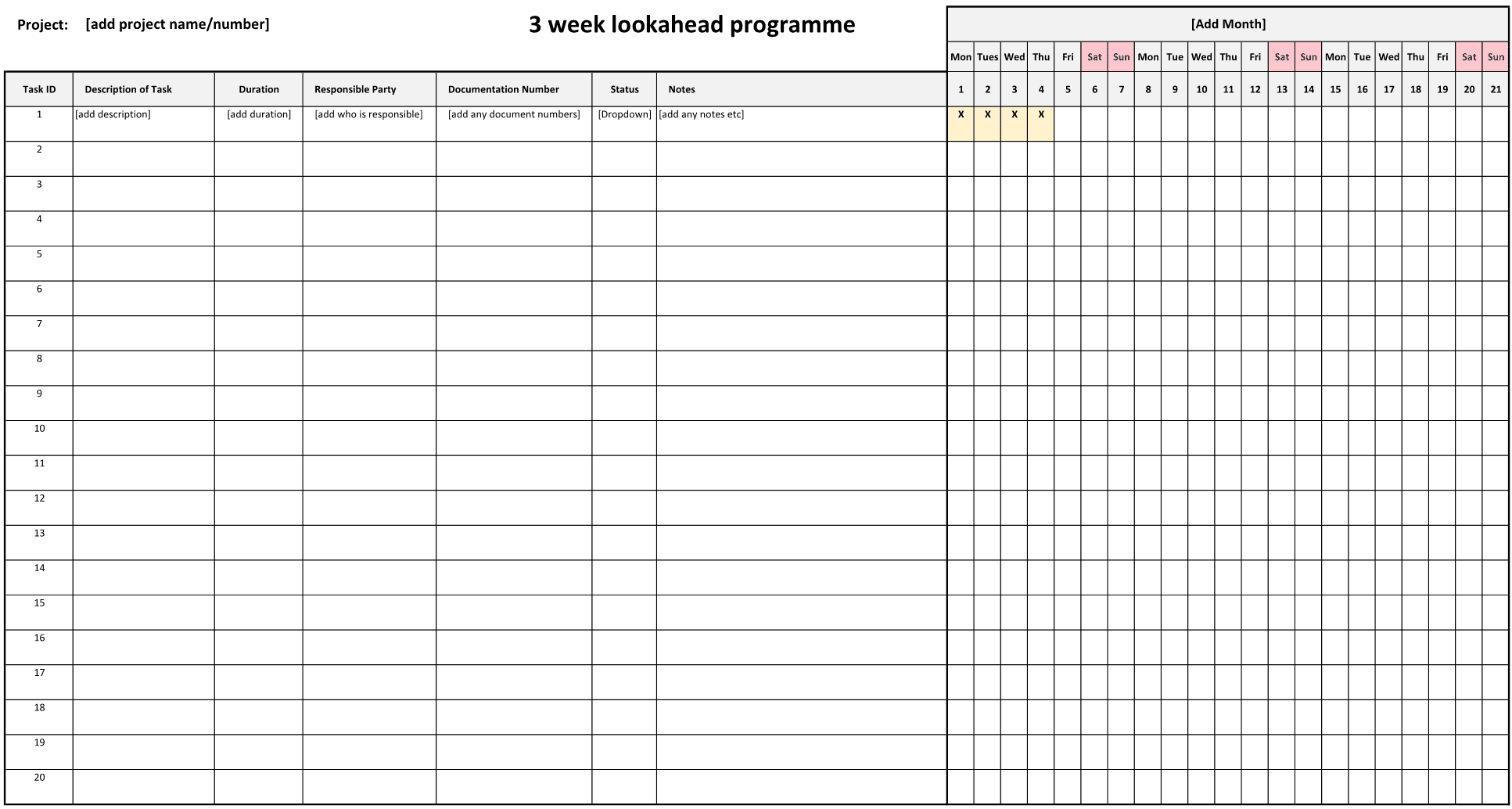 Four [4] weeks look ahead schedule template
---
⬛ Related Articles

⬛ Latest Articles
---
⬛ Author