Within construction, a Request For Information [RFI], or Technical Query [TQ], is a formal contract document generally issued during the earlier stages of a project when the team is reviewing and understanding the design and construction information. It will generally consist of questions that are asked to gather additional information that the reviewer may be confused about or need more clarity to allow them to cost, plan, build, commission, and note any potential gaps.
The types of information that would be reviewed to produce an RFI are:
General contract documents,
Specifications [general and particular],
Client guidelines and requirement documents,
Commissioning plans and requirements,
Design drawings [layouts/schematics],
Construction drawings [layouts/schematics],
Manufacturers literature,
The sequence of operations/control logic,
General site conditions
🟩 When are they Created?
Most RFI's are issued during the early stages of a project, once the contractor has been instructed, during their purchasing, planning, and early construction stage when their engineers, subcontractors, vendors, and suppliers are evaluating the contract documents, design, and site conditions to allow internal procurement, planning, and contracts to be placed accurately.
After these initial stages, the quantity would usually reduce as the project progresses more into the onsite construction works.
🟩 Why are they Used?
🟧 Positive Use
As we all know, due to the nature of the way construction projects are procured, designed, and built, it's extremely common and understandable that information within the contract documents may not be 100% accurate missing details or being inconsistent.
To help manage this, RFI's are an important tool to help control, manage and resolve this missing, inconsistent information quickly, helping manage costs and the overall program, allowing issues to be detected and resolved early and quickly.
Some queries raised may center around the following:
Interpretation – to understand the meaning of something in the contract documents,
Clarification – to understand something that may be confusing,
Request additional information – the person asking the question may feel that they need additional information to fully understand the requirements,
Note items not previously seen – this can generally occur once site inspections have been completed looking at installation and coordination.
Better, more efficient solution – the contractor will usually have alot more experience than the designer when it comes to building things, they may want to change the method in which something is built.
🟧 Negative Use 
Although RFI's are designed to help the project, they can be used to their detriment on some. Here are a few examples:
If the contractor is only interested in using them to create change orders, variations, and extensions of time.
If the contractor decides they want to issue large batches of RFI's simultaneously, leaving the reviewers little time to respond properly, then ask for additional time and monies, especially if issuing on a Friday afternoon.
The contractor uses them instead of the official material submission process to request approval for inferior/cheaper products blaming delivery times for project-specified equipment.
🟩 What types of Questions would be Asked?
Taken from Table 8 of the Navigant Research Paper 'Impact & Control of RFI's On Construction Projects [2013]', there are commonly 14 different categories of questions + we have added a couple of our own:
🟧 Tender Queries
When the contractors evaluate the documentation related to the Request for Proposal [RFP], there will usually be queries and questions. These would be raised using the standard project RFI format and process.
We have written the following article relating to Tender Interviews & Queries 'TENDER INTERVIEWS | Simple Guide'
🟧 Value Engineering
Throughout the early planning stages, the contractor may notice areas where monies or programme time could possibly be saved. This may result from modifying the design or using different materials and installation methods.
Where this is the case, an RFI will be raised to understand if the finding/proposal is something the project's client team would like to investigate. If the client team confirms they would like to investigate and decide to change, this should be dealt with via official change orders, not only the RFI.
🟧 Deleted/Modified Scope
During the tender/value engineering stage, there may have been an agreement that certain works would not be required or have been modified. The works, however, are still shown on the final design drawings.
If this is noted, an RFI should be raised to seek clarification of what should have been allowed for.
🟧 Design Clarifications
If any part of the design or its intent is unclear, an RFI should be raised to understand the designer's expectations before continuing that element of work.
🟧 Design Issues
A little different than the Design Clarifications above in that if any issues are noted with the design, for example, it will not work, sizes are incorrect, etc., an RFI should be raised for a response from the design team.
🟧 Incomplete Documentation
Where it is noted that there are missing contract, design, and construction documents, an RFI should be raised requesting they be issued.
This could be missing drawings, schedules and parts of specifications, etc.
🟧 Design Coordination
Upon reviewing the different systems of the project, it may be noted that the coordination between some is not complete; for example, there may be a piece of equipment that is not connected to all required systems allowing it to work.
Where this is discovered, a Request for Information should be raised.
🟧 Material Specification Issues
In some instances, we can find that some specified materials are unsuitable for the environment or operating requirements they are to be installed. For example, we can find that on a roof, the equipment and materials specified are not rated to the correct waterproofing, or in a gaseous area, the fans are not explosion-proof.
A Request for Information should be raised where these issues are discovered to seek further clarification.
🟧 Site Conditions
Through the tender period, there is usually limited time to complete a full survey of the site and its conditions, especially if an existing building is being refurbished.
Only when we are awarded a project can we then do this and find sometimes the assumptions made in the design do not match the site conditions. For example, the water mains, gas mains, power, and chilled water systems are not as expected.
Where this is noted, an RFI should be raised, and the contractor work with the design team to understand the best solution. This can be as simple as updating the drawings.
🟧 Site Coordination Issues
Similar to the Site Conditions above, site coordination issues can also be experienced. These would focus on items that would affect the installation of the equipment and materials needed to complete the project.
An example would be ceiling voids not being deep enough, steel beams obstructing routes of services, differing pipework sizes needing to be connected to, distribution boards not large enough etc.
Where this is noted, an RFI should be raised, and the contractor work with the design team to understand the best solution. The contractor would usually provide site survey information, coordinate drawings, etc.
🟧 Programming Issues
If any changes are made or noted that impact the programme, further information should be sought to clarify the direction to be taken.
Once agreed, the programming issue should be dealt with outside of the RFI and in line with the contract requirements.
🟧 Building Issues
When the contractors have full access to the building, they will conduct surveys to ensure that they will not inherit any existing issues or that the building can be modified in line with the design. During this time, they may find issues with the structure or internal finishes – for example, ceilings may be damaged, doors may be missing, and walls may be unstable or load-bearing when in the design drawings they are not.
An RFI should be raised where this is noted for clarification and direction.
🟧 Proposal of Alternate Equipment and Materials
The contractor can use the document to propose alternative materials and equipment, this is one thing that is noted in the above 'negative use' of RFI's.
🟧 Issues with Utilities
Utilities can become a major issue for a couple of reasons. The first is that underground services are usually not plotted accurately onto drawings and can be found to obstruct the construction works and installations.
The second is that when setting up the building for operation and starting the commissioning/functional testing process, there is a need to have power, water, and drainage online and available; in some instances, this is not possible due to them not being ready.
RFI's will be raised and should be noted early in the construction programme to allow action to be taken and not impact the overall programme.
🟧 General Commissioning and Setting to Work
As testing and commissioning becomes more and more of a focus on projects, we find that there are more queries being raised around the commissioning works and operating of the building.
A lot of the queries usually focus on what has been allowed by the contractor based on the specifications and scope.
This should be easily managed by conducting a detailed and rigorous tendering process.
🟩 12-Step RFI Process
The below table details a 12 Step RFI process that can be used on most projects:
Task/Activity
Responsible
Step 1
Agree on the format of the RFI's
Main/General Contractor

Client Team
Step 2
Agree on the numbering of the RFI's
Main/General Contractor

Client Team
Step 3
Agree on the process to issue and manage the RFI's
Main/General Contractor

Client Team
Step 4
Agree on how the RFI's will be tracked and reported
Main/General Contractor

Client Team
Step 5
If required, create a manual tracking schedule
Main/General Contractor
Step 6
Review contract, design, construction information, and site conditions throughout the project for any queries, clarifications, or issues
Sub Contractors
Vendors
Suppliers

Main/General Contractor
Step 7
Write and create RFI's based upon findings in step 6
Sub Contractors
Vendors
Suppliers

Main/General Contractor
Step 8
Consolidate and review any RFI's received from the subcontractors, vendors & suppliers
Main/General Contractor
Step 9
Issue RFI's to the relevant party in the client team in line with the agreed project process noted in step 3
Main/General Contractor
Step 10
Review and respond to RFI within the time frame of the contract


Client Team

Step 11
Manage the closing out of the RFI's to an acceptable conclusion.
Main/General Contractor

Client Team
Step 12
Provide weekly/monthly reports on the RFI progress
Main/General Contractor
🟩 Raising, Answering, Filing & Tracking the RFI's?
Throughout the process, the general/main contractor will be overall responsible for most of the tasks and activities related to this work.
🟧 Raising and Answering Tasks & Responsibility Matrix
The responsibility matrix is pretty straightforward for this:
Who
Responsibility
Sub Contractors/Vendors and Suppliers
Write and Issue RFI to Main/General Contractor where required.
Main/General Contractor
Review and Issue to the Client Team RFI from Sub Contractors/Vendors and Suppliers.

Write and Issue Own RFI to Client Team.

Manage, File, and Track the RFI's.
Client Team/Designers
Review and reply/provide answers to all RFI's, manage any change orders that may come about from the RFI's.

Ensure the agreed contract RFI process is completed.
🟧 Filing and Tracking Tasks & Responsibility Matrix 
There are two ways in which the documentation will be managed and filed:
Manually using software such as Microsoft Word/Excel,
Electronically using software such as Aconex, A-Site, and Pro-Core.
Depending upon the method being used to file, the following tracking/logging can be used:
Manually by creating a log in Microsoft Excel
Automatically by downloading a report from the electronic platform [Aconex etc.]
Accurate tracking will help ensure there is a clear understanding of the status of each query raised, and for accurate reporting, the main/general contractor should ensure a log is maintained throughout the project.
Who
Responsibility
Sub Contractors/Vendors and Suppliers
Ensure that the RFI format is as per the project requirements.

Ensure numbering is as per the project requirements.
Main/General Contractor
Ensure that the RFI format is as per the project requirements.

Ensure numbering is as per the project requirements.

Creating and maintaining a filing system to manage the RFI Process.

Creating and maintaining RFI Log to clearly understand progress and for accurate reporting.

Provide weekly/monthly reporting.

Manage any issues or late responses.
Client Team/Designers
Ensure that the RFI format is as per the project requirements.

Ensure numbering is as per the project requirements.

Review reports and help manage any issues.
If needing to create a manual log, the following columns should be included;
RFI number,
Title/Description of issue,
Date issued,
Date requiring a response,
Current status,
Who/which company is responsible for providing an answer,
Date of response received,
Details of response received,
At the end of this article, you can download an open copy of our RFI Log/Tracker [in MS Excel] with our RFI Template [MS Word / MS Excel].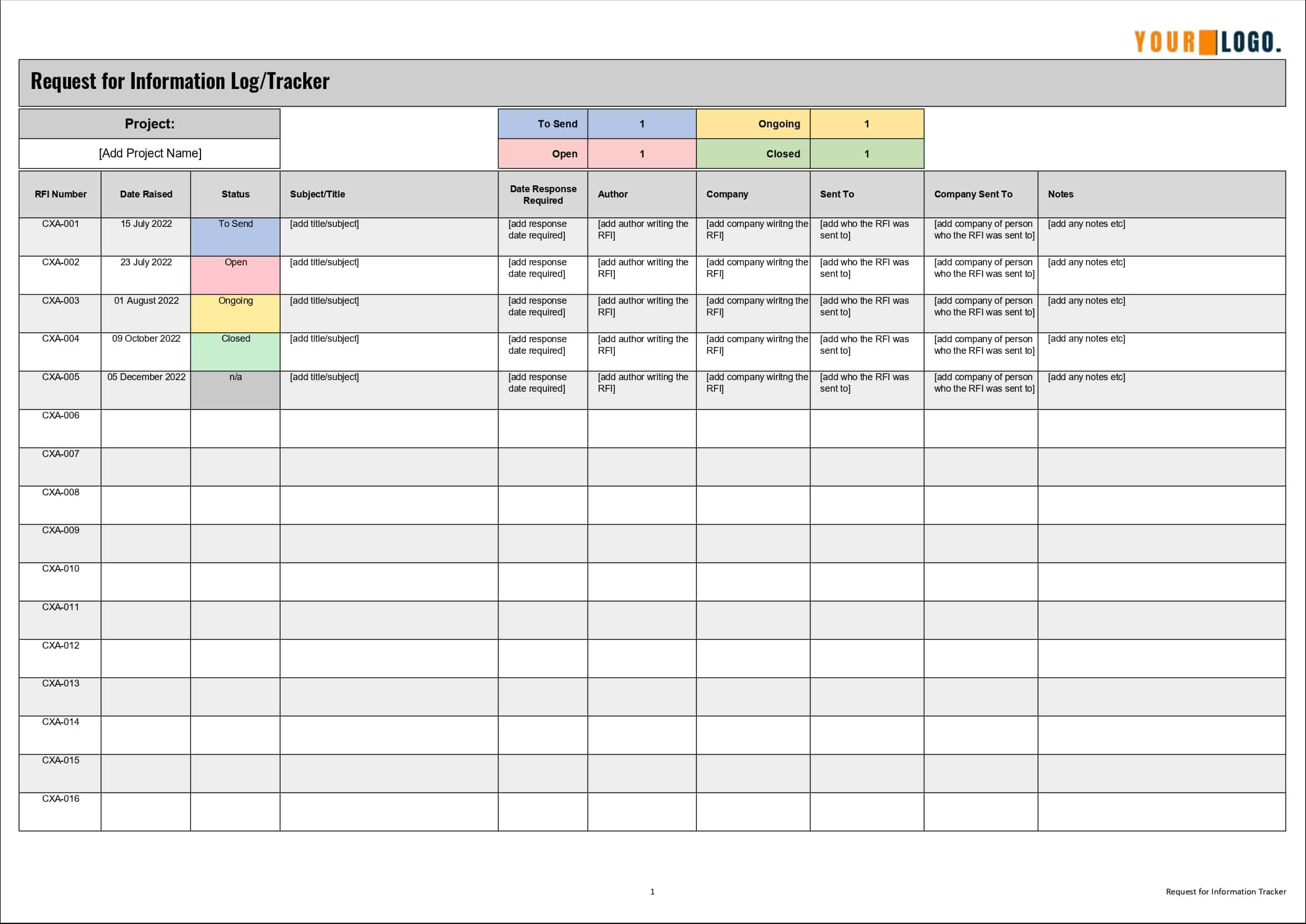 🟩 What is a Good Format for an RFI?
Each RFI needs to include just the right information to be effective and clear, allowing a concise response from the client team; below is a list of information that we feel is useful to include when formatting the document with an example that can be downloaded:
Project name,
RFI number [inline with contract agreements],
Date RFI raised,
Author and company raising the RFI,
Brief title/subject,
Addressed to [including name and company],
Description of the issue noted, specification clauses, drawing numbers and include attachments of any supporting documentation,
Statement on any attachments,
Date expect a response [inline with contract agreements],
Author and company answering the RFI,
Date RFI answered,
Space to allow the response from the client team,
Statement on any attachments,
Signature box,
Area for general/main contractor to understand issues to costs or programme
---
⬜ Request for Information Sample Template [PDF / MS Word / MS Excel]
To help us expand the site and create more resources, we created the documentation below in [Microsoft Word & Microsoft Excel] for download.
Click the 'Buy Here' button to purchase the fully editable copy of the document, which can be used straight away.
You will be directed to our shop page, also included is the RFI Tracker/Log [MS Excel].
---
⬛ Related Articles

⬛ Latest Articles
---
⬛ Author