A building owner should ensure a regular daily/weekly and monthly preventative maintenance schedule is applied for their cooling towers and ancillary equipment throughout the year to help and ensure:
The risk of Legionella is managed/reduced
Scale and debris build-up is managed
The efficiency of the tower is maintained
Minimizing early failure of mechanical components/electrical components
Reducing corrosion within the tower and on the external surfaces
Reduction in downtime of the tower
Longevity of its intended operational life
How long do cooling towers last?
15 to 20 years is the general expectation of life for an industrial cooling tower, used in a cooling process for general office buildings, etc, before the need for replacement or extensive rebuild.
This is why a good preventative maintenance regime is extremely important, as this can sometimes extend the operational life.
We have seen cooling towers that are much older than this.
How often should cooling towers be inspected?
For preventative maintenance and depending on the component, they should be inspected daily, monthly, quarterly, semi-annually, yearly. See below.
Documentation usually required to conduct the works
The following documentation would usually be a requirement prior to any works taking place to ensure it is conducted safely and correctly:
Previous inspection reports
System schematics and layout drawings
Check sheets for recording the works
Risk assessment
PPE assessment
Method statement
COSHH assessment
Work permits etc
Cooling Tower Maintenance Checklist and Plan
Only Engineers and Operatives who are qualified, experienced, and fully understand the design and operation of the system should complete these inspections.
Below we run through an example of the checks that would generally be conducted, any observations should be noted, advice on the needs of the remedial work and, when completed signed off. The urgency of the remedial works will depend on the criticality of any observations.
Please note: Preventative Maintenance should not be confused with Inspecting and Cleaning of Cooling Towers which can be read about in our article 'Overview | Inspecting & Cleaning Cooling Towers'.
What to check daily
Unusual noise and vibrations in and around the tower, will generally be from the fan
Unusual noise and vibrations at the condenser water pump
Check the water level in the basin, this can be done via the level sensor at the BMS if part of the system
Water quality checks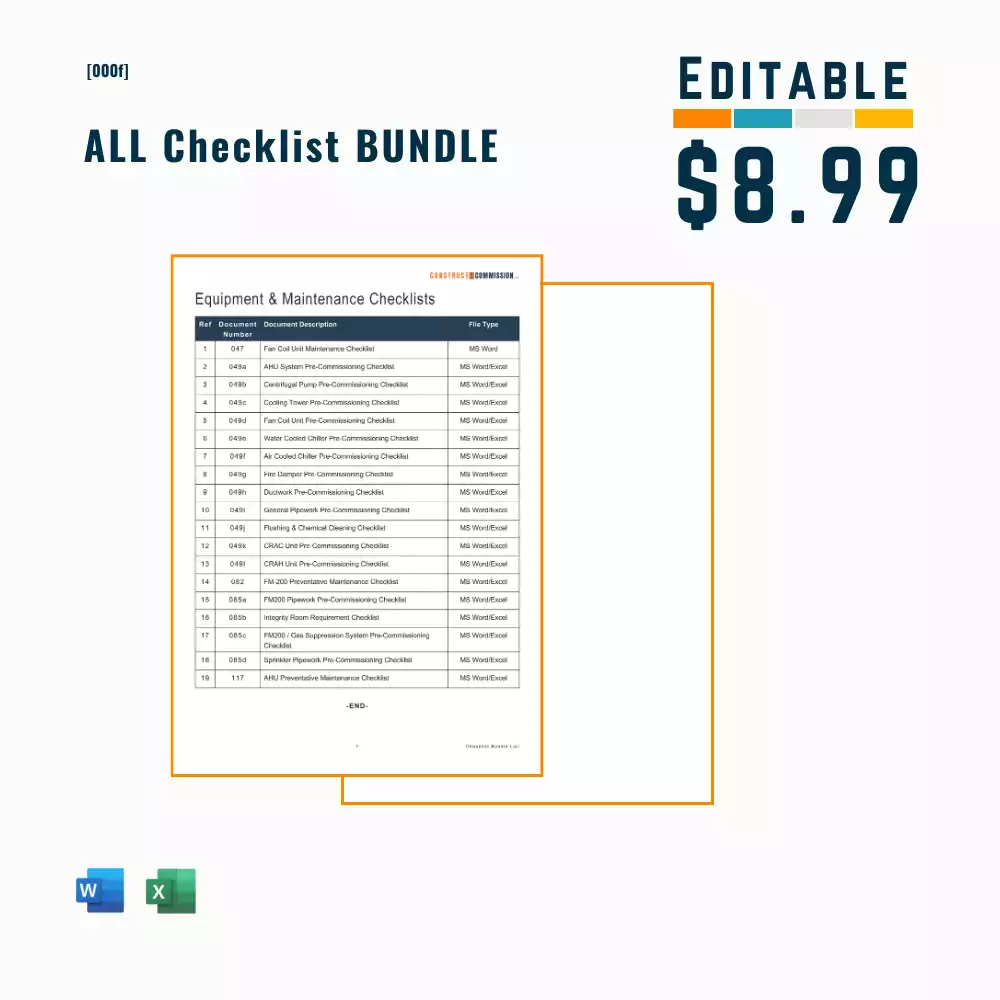 What to check monthly
General overview of system condition inspection
The general condition of the fan and motor/drive mechanism
Check for oil leaks in components, hoses and fittings
Check oil levels and add if required
Clean the fan motor
The water makeup valve is operating correctly
Inspect and clean the air inlet
Inspect and clean the tower drift eliminators
Inspect and clean the tower fill pack
Inspect and clean the hot water basin feeding the fill pack
Inspect and clean the spray nozzles
Check the spray pattern of the nozzles
Inspect and clean the tower basin
Check operation of the blowdown system
Check operation of the bleed water valve and system
Check operation of vibration switch
Check and clean side stream filtration/sweeper systems
Check operation of the chemical dosing system
Check and clean pipework strainers
Manually check the level and valve of the tower water basin and make adjustments if required to the water feed
Check protective finishes to surfaces of tower and components to ensure are not damaged and compromised
Review operation of basin heater and clean sensor if necessary
Check the status of system operation [set to automatic]
What to check quarterly [3 months]
Check belt alignment and tightness [if fitted to motor]
Check fan blades for cracks, missing balancing weights, and any apparent vibrations
Check fan blade pitch [angle]
Check fan blade tip clearance
Review operation/signal of level sensors and clean if necessary
Inspect condition of ladders/handrails/stairways/walkways etc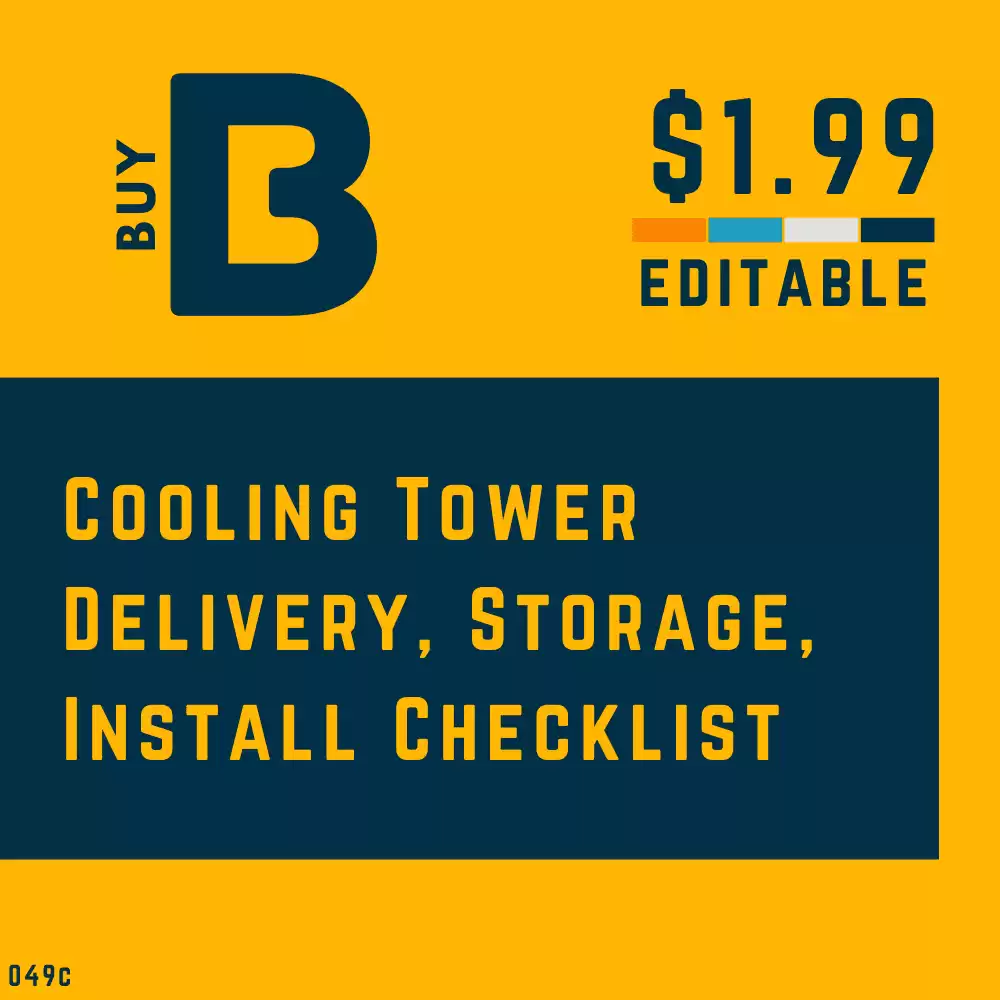 Cooling Tower Pre-Functional Testing Checklist [MS Word] + [MS Excel]
Here is our open copy [MS Word] of the COOLING TOWER Pre-Functional Checklist, for making life a little easier...
We have also recently formatted this checklist to [MS Excel] and included it as a Bonus for FREE.
So get an MS Word & MS Excel for the same price.
Buy Here | $1.99
Please do not underestimate the impact your purchase can have on this site; it allows us to re-invest in more content/resources, keeping those annoying banner adverts away.
What to check semi-annually [every 6 months]
Change oil
Check and tighten fan blade hub
What to check Yearly
Check all mounting bolts for tightness and signs of corrosion
Inspect all parts of the motor including oil plugs etc
Lubricate components
Inspect drive shaft not loose
Check for drive shaft/bush wear and tear
Check motor alignment on the fan
After any Extended Shutdown Checks
Complete all checks above
Cooling Tower Preventative Maintenance Sample Checklist [PDF] & [.doc]
To download the below document [Free] in A4-[.doc], click the below button to be taken to our shop:
---
FAQ
---
⬛ Related Articles

⬛ Latest Articles
---
⬛ Author